About us
Company name
株式会社エイテック ATEC CO., LTD.
Establishment
August 1999
Capital
30 million yen
Business contents
Manufacture and ball transfer (Planeveyor) sale maintenance and power tools sale, manufacture and magnet ring · point flash sale
Number of employees
26
Official
President Shinichiro Abo
Transaction Bank
Aichi Bank, Chukyo Bank
Location

Head Office / West Japan Sales Department
72-2 Kitazaicho Shimizugane Obu-shi Aichi Japan 474-0001
PLANEVEYOR Division TEL. +81-562-85-3101 FAX. +81-562-46-9150
POWER TOOL Division TEL. +81-562-46-9003 FAX. +81-562-46-9150

Offices

Minami Kanto Branch Office
Kuramae H.K.Bldg 8F 4-33-8 Kuramae Taitou-ku Tokyo Japan 111-0051
PLANEVEYOR Division, POWER TOOL Division TEL. +81-3-5809-3614 FAX. +81-3-5809-3646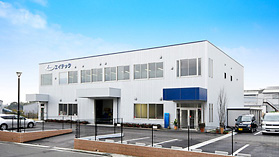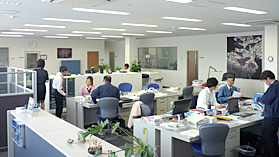 (As of August 2014)
History
1989
August
Established Nissei Kikou Inc. (capital: 6 million yen), as Chubu District Service Center of Uryu Seisaku Co., Ltd. Start activities.
1990
July
Change the organization to Eisin Kikou Co., Ltd. and increase the capital to 10 million yen.
1993
December
Apply for a utility model of a steady-state socket and start production.
1999
August
Established Atec Co., Ltd. (capital 10 million yen) independent from Eisin machinery accompanying business expansion.
Transfer manufacturing and sales division such as point flash · mag ring etc.
2000
August
Convenient technical staff in the transportation industry. Start production and ball transfer Planeveyor and Compressed Air Actuated Planeveyor Lifter sale.
Capital increased to 20 million yen.
2001
May
Developed the industry's first up and down dual use of Planeveyor (special spherical surface PAT.P). Compared with conventional type, improve durability and lowered the price.
August
Development and sales start of dust discharge type Planeveyor which is compatible with inferior environments such as dust which is difficult to transfer balls.
2002
February
Development and manufacture of seismic isolation device Plane Slider. Due to its high ability, it gets a high reputation from the industry.
March
As a base for sales / service, Established the Kita Kanto Branch Office (Saitama Prefecture).
April
Clean room compatible Planeveyor development and manufacture for positioning (centering unit) of glass substrates etc. (all resin type Planeveyor) has been started.
2004
April
First exhibited at the 14th Fine Tech Japan which is FPD industry in the world's largest exhibition.
2005
March
Development and sale of PVPR type (Main ball lock mechanism) (special spherical surface PAT.P) to the conventional all-resin type Planeveyor.
2006
January
Atec Head office relocated from Obu-shi, Aichi Prefecture, to Kariya-shi with business expansion.
March
The main centering unit was renewed and 30 models were announced.
September
First exhibition at International Manufacturing Technology Exhibition IMTS 2006 (Chicago Show), which is the 3rd largest machine tool world show held every two years in Chicago, USA.
October
First exhibition at i-SEDEX 2006 (International Semiconductor Display Exhibition) held in Seoul, South Korea.
2007
August
As a base for sale / service, establish a Minami Kanto Branch office.
2008
August
Our conveying air blowing system for glass substrates developed by our company is awarded the development grant recognized by the New Technology Development Foundation's advanced technology in 2008.
2009
April
Simultaneously announce Plane Blow unit PBU series of clean room compatible centering unit PVXM series.
October
Established a new factory alongside with an increases in orders for clean room compatible Planeveyor.
2010
January
New Air Tools Division established. Capital increase to 30 million yen.
2012
March
Started export sales by "Alibaba.com" with overseas user's request.
June
Started selling PVXW profile control centering unit for robot arm tip.
2013
July
Cooperative development and sale of hydraulically actuated Planeveyor lifter by business alliance with Showa Seiki Co., Ltd.
2014
June
Started selling press-fitting free guide unit FGU making full usage of our centering unit's technological strength.